Letherette - Letherette EP
I, the fearless leader that is the Unsung Hero of Party, advance another numeral in the yearly measure of life this day. Today, is my name day.
On this such a beautifully normal of days, my fine brother
Entricut
dropped pon my head, such a fire that is quite a thing to be reckoned with. The blistering heat comes in the form of a little known Wolverhampton, UK duo that goes by the name of
Letherette
.
Their sample cutting is superb. Enough so to cause the
E.N.T.
(who is of only the highest of sample cutting orders, a true lo-fi dice master in his own right, and had been in the midset to move away from the grafting/original sound hybrid, to a more completely from scratch musical creation technique) to be re-invigorated in his love for the art form, and dive only more deeper in. He is close to the completion of a new instrumental album (which will be mostly mixed, and finally mastered by yours truly here @
Fonogenic Studios
)...so keep the eyes wide. Also worth noting is that the boys of Letherette are pushing the lines of hip-hop/electronic musical fusion (and I say that knowing full well that I could go outside, get in my car, fire up Power 106, 'where "
hip-hop"
lives', and possibly hear nothing but 'dancey', 'electro' sounding hip-pop buuuuullshit. I'm talking on some REAL levels) the way my Brother always has, and continues to do. They are a bit more on the experimental side, while my Brother seems to prefer to stick a bit closer to the hip-hop purist side of things (you know dat). Nuff respect.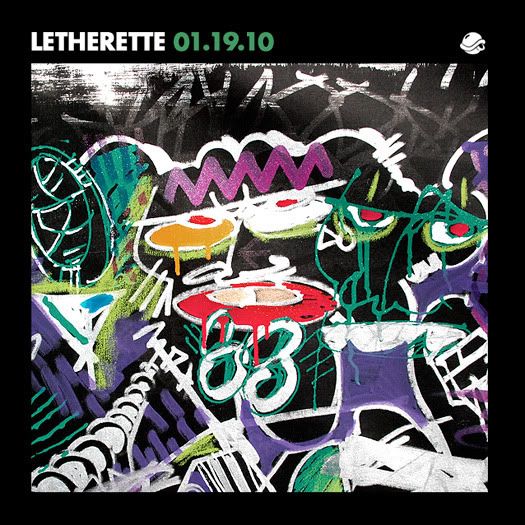 The men of Letherette are not graced with big money label backing, or any kind of glitzy sponsorship, making their music a trying task to compile. However in January of last year they dropped this mix for
BTS Radio
which includes no fewer that 15 original cuts.
DOWNLOAD HERE.
And enjoy (their page is
full of great mixes..
.a nice find as well).
Letherette -

Guest Mix for Andrew Meza's BTS Radio Beat Showcase #003
Original Air Date: January 19, 2010
Running Time: 58 minutes
Just learned also that they did the beat for Theophilus London's track "Oohs & Ahhs", which appears on his
This Charming Mixtape '
album'
,
which, along w/
Jam
, was my intro to the guy, and he's become a fave of mine. Theo was featured on my previous incarnation of this UPH blog, and is no longer available due to the wonderful DCMA.
Shouts to Entreezy....see you soon.
Tracklist for the Letherette mix:
Letherette - Eye To Eye (CDR)
Pete Rock - We Roll (Nature Sounds)
Letherette - Master Chin (CDR)
Letherette - In July (CDR)
Madlib - The Mystery (Dilla's Still Here) (Stones Throw)
Letherette - Check My Head (CDR)
Kashif - I Just Gotta Have You (Lover Turn Me On) (Arista)
Pheonix - If I Ever Feel Better (Source Records)
Cherelle w/ Alexander O'Neal - Saturday Love (Tabu)
Letherette - Langsette (CDR)
Letherette - In And Out (CDR)
Machinedrum - Late Night Operation (Letherette Remix) (Normrex)
Letherette - Good For Me (CDR)
Lone - Fire Fly Rainbow (Dealmaker)
Letherette - Feel Real (CDR)
Letherette - Shoe Be Doo (CDR)
Letherette - Blad (CDR)
Letherette - Yea Yeah Love (CDR)
Letherette - Giro Milo (CDR)
Hudson Mohawke - Track #003 (CDR)
Letherette - Donnie Ball Ball (CDR)
Letherette - Optimise In Prime (CDR)
Thomas Bangalter - Club Soda (Roule)
Letherette - This Time (CDR)
Bibio - Jealous Of Roses (Warp)
Bibio - Lovers' Carvings (Letherette Remix) (Warp)