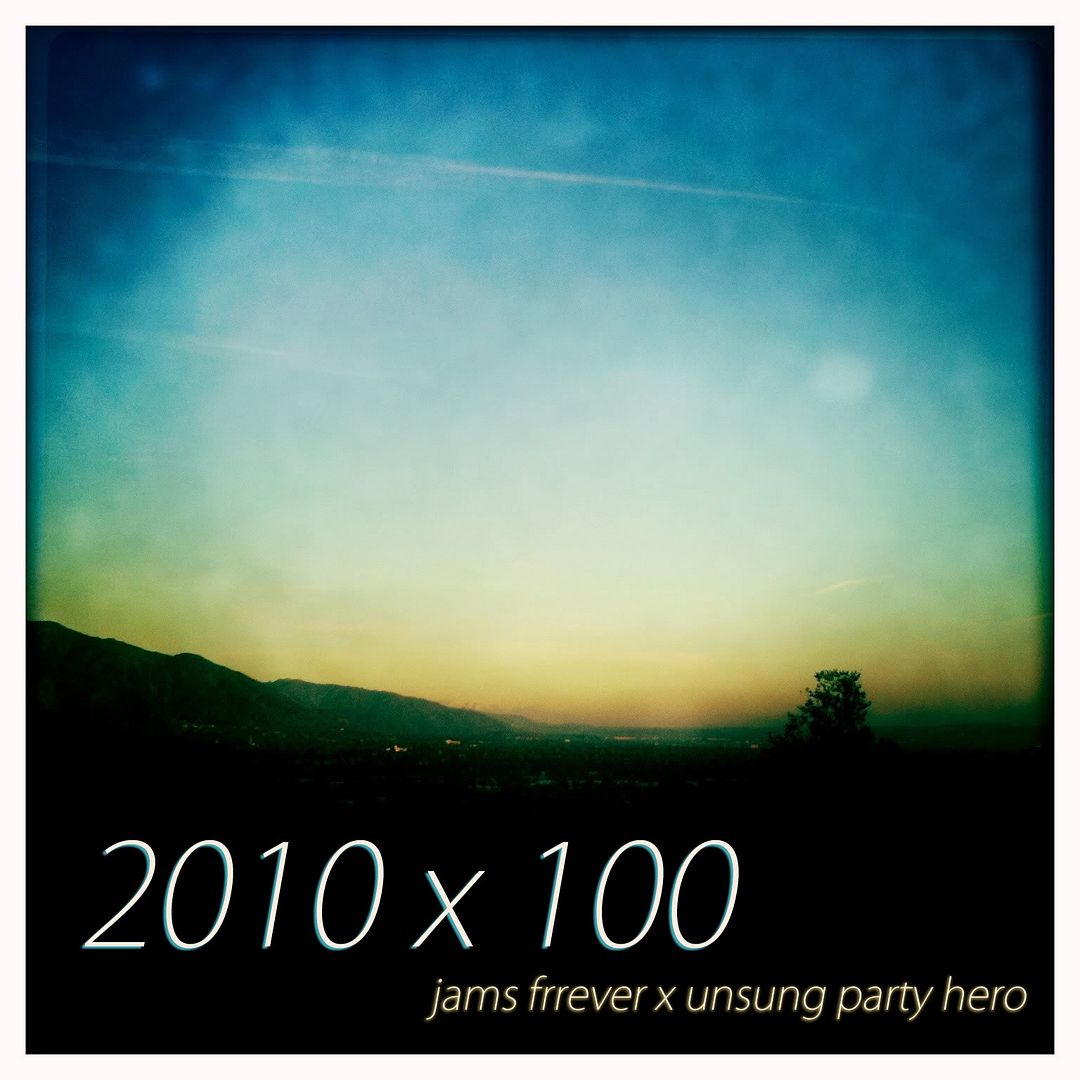 UPDATE:
Man they getting rough out here...I got pulled...email me @ james207@gmail.com for the list & possible download. Thanks...
It's been quite a collection of 365 days...
...here is a collection of 100 tracks for the year of 2010...in no particular order. It's 100 different artists (Beach House & Beat Connection were almost featured twice...Beach House might get the album of the year honors from me).
Thanks and rock the fuck on.
The War On Drugs - Comin' Through
Cults - Go Outside
Aeroplane - We Can't Fly
Anamanaguchi - Rock Club
Arcade Fire - Ready To Start
Avi Buffalo - Jessica
The Black Keys - Tighten Up
Young Man - Five
Wu Tang Vs The Beatles - Uh Huh
Woods - Blood Dries Darker
Wacka Flocka Flame - No Hands f. Roscoe Dash And Wale
Voltage - All Night
Small Black - Goons
Toro Y Moi - Freak Love
Tame Impala - Make Up Your Mind
Surfer Blood - Take it Easy
Space Boys - Yallz Crazy f. Jams Frrever
The Soft Pack - Mexico
Say My Name - Stop Snitching
SURVIVE - The Cave
Beach House - 10 Mile Stereo
Röyksopp - The Alcoholic
The Roots - The Stars
Rick Ross - I'm Not A Star
Ratatat - Drugs
Pantha du Prince - Satellite Sniper
The Naked And Famous - Young Blood
Moon Duo - In The Trees
Male Bonding - Nothing Used To Hurt
Magic Man - Monster
Javelin - Intervales Theme
Hoodie Allen - So Much Closer f. Rocky Business
Harlem - Gay Human Bones
Gorillaz - Empire Ants f. Little Dragon
Big Boi - Shutterbug f. Cutty
Glasser - Home
Girl Talk - Steady Shock
Futurebirds - Happy Animals
The Drums - Let's Go Surfing
Jesse Woods - Mind, Drips (Neon Indian Cover)
Die Antwoord - Wat Kyk Jy
James Pants - Thin Moon
The Bambi Molesters - Into The Crimson Sunset
Eagle Machine - Twenty 10
Blackbird Blackbird - Sunspray
Crystal Castles - Not In Love f. Robert Smith
Twin Shadow - Castles In The Snow
Alicia Murphy - Appreciating
Various Cruelties - If It Wasnt For You
Broken Bells - October
Caribou - Odessa
Cee-Lo Green - Fuck You
Onra - Oper8tor
CocoRosie - Lemonade
How to Dress Well - Endless Rain
Oneohtrix Point Never - Describing Bodies
Audio-Ology - My Alien
Marnie Stern - Transparency Is the New Mystery
Metric - Gold Guns Girls (Jams Frrever Remix)
Gonjasufi - Advice
Holy Fuck- Stay Lit
Unquote + Molecular Structures - Lubov Moya
Ellie Goulding - Under The Sheets (Chiddy Bang Remix)
Two Door Cinema Club - What You Know (LightsoverLA remix)
Jump Jump Dance Dance - Show Me The Night (Grum Remix)
Dada Featuring The Other - Majestic 12 (Super Mal Remix)
Beach Fossils - Sometimes
Best Coast - The Sun Was High (So Was I)
Japandroids - Younger Us
Allure - Renaissance
CFCF - Big Love (Mathemagic Remix)
Felguk ft. Sporty O - 2Nite
Gemini Club - Ghost (Midnight Conspiracy Remix)
Kid Cudi - All Talk f. LCD Soundsystem & Chip the Ripper
Wavves - Linus Spacehead
Grum - Through The Night
Day of the Woman - Jennifer Hills (Mexicans with Guns Remix)
Gold Panda - You
Kanye West - Monster f. Jay-Z, Rick Ross, Nicki Minaj & Bon Iver
Flying Lotus - Dance of the Pseudo Nymph
Aether - Tomorrows Thief
Clubfeet - Last Words
Rusko - Hold On f. Amber Coffman (Sub-Focus Remix)
Russ Chimes - Tetre Rouge
Entricut & Misterthumbs - Fumes
Volta Cab - Clarissa
Baths - Hall
Ariel Pink's Haunted Graffiti - Bright Lit Blue Skies
Kanye West - All Of The Lights
Lil Wayne - Right Above It f. Drake
Com Truise - Slow Peels
Beat Connection - Theme From Yours Truly
Jeremy Jay - Splash
Beach House - Silver Soul
Booka Shade - Regenerate
Das Racist - You Oughta Know
Boys Noize - Yeah
Muffin - Sunkissed
Totally Enormous Extinct Dinosaurs - Household Goods
Wolfgang Gartner - Undertaker (Original Mix)
jj - Die Tonight